Follow your child's adventures closely through the parent portal
Bringing your child to daycare takes some getting used to. We understand that it is nice to see what your child experiences while playing at the daycare. That is why at Elorah we have a parent portal with an accompanying app where you can log in at any time. The pedagogical staff will share nice photos and personal messages about your child with you during the day care. This way you can closely follow the adventures of your son or daughter at Elorah.
In addition, we are making the administrative side of childcare increasingly simpler, so it is very easy to request extra childcare via the parent portal. Useful!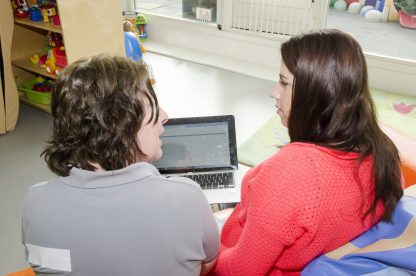 Parent portal in brief
View photos and messages from your children
Simply cancel childcare or request extra childcare
Send messages to your children's branch yourself
View and edit your personal information
View and adjust the details of your children and your partner
View your invoices
View your childcare summary
How does it work?
If you become a customer of Elorah, an account for the parent portal will automatically be created for you. You will receive an email with which you can activate your account, you only have to create and remember a password. After activating your account you can easily log in to the parent portal.
Did you know that the parent portal also has a handy ParentApp? You can also arrange everything via this app, handy!
You can download the app on your smartphone from Google Play or the App Store.