If you opt for day care, you want to be sure that your child is in good hands and that the care is in line with the identity and habits of the home. A nice and safe place, where your child is cared for with love and where he or she enjoys going.
Elorah offers day care from a Christian Reformed identity. At Elorah your child will quickly feel at home and very welcome. With Bible stories, psalms and songs, your child gets to know what the Bible teaches us about God at his or her level.
Besides children having a good time at Elorah, they grow in their skills. We call this 'child development'. Together with friends we go exploring, play in the challenging play corners and go outside as much as possible! Your child will prepare for primary school in a playful way. We keep to the rhythm and habits of home, so that your child quickly feels familiar. Your child will have its own place in a permanent group and will get to know the pedagogical staff and the other children well.
Have a look at Elorah
Before you choose childcare for your child, it is nice to first have a look inside a branch without obligation. What does your child experience and learn at daycare during the day? Who will take care of your child and how many other friends are playing?
We are happy to show you where your child might eat, play and sleep in the future. Fill in the information below and we will contact you to schedule a tour. You can then meet the branch manager and ask all your questions.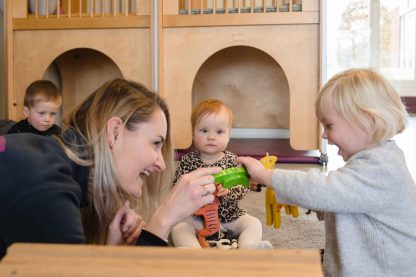 Almost mom and dad
It is a miracle, the growth of new life in the womb. A time of expectant watching, preparing for the arrival of a little one entrusted to you. Also a time when you make many choices together. You may also choose to use childcare. So what is best for your child? What fits in with home and what do you feel comfortable with?
You want the very best for your little one. Even if you are going to work later or would like some time for yourself. It is nice to know that your child is in safe hands with our pedagogical staff with a Christian Reformed background. At our daycare we work with baby specialists and pedagogical staff who have followed special training, so that they know exactly what your child needs.
Thanks to our experience and cooperation with Kibeo, we provide professional care that suits your child and we can advise you well. We understand what you and your child need.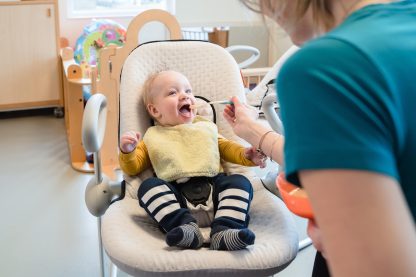 Happy baby
In the baby group your baby will receive the loving care and attention he or she needs. Your child learns to crawl on soft rugs and he or she plays in the floor box with other babies. Your baby will make his or her first friends at daycare. No matter how small your child is, children react to each other, recognize each other and seek each other out. This stimulates the development of the first social skills.
Through small, playful and varied activities, such as looking in the mirror, crawling on the mat or reading aloud, we support the growth of your child's various skills.
Your baby will develop more easily if he or she comes to the nursery more often. It offers peace and stability. The pedagogical staff also get to know your child, its needs and the development line well. This allows them to better guide and stimulate your child in his or her development.
Growing together in a nice place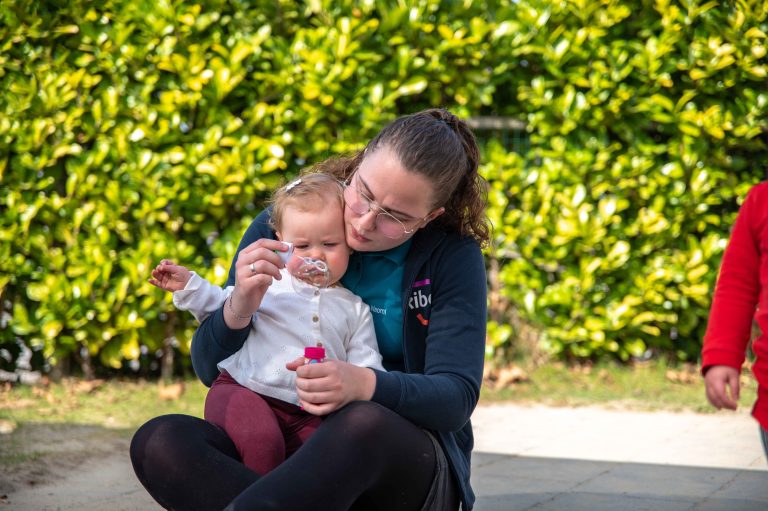 Discovering toddler
A toddler develops at lightning speed. Your toddler will discover God's creation and the world around him or her in amazement. We stimulate and use this natural wonder of your child in child development.
At Elorah, the rhythm of your little one and the recognizable habits at home are always the starting point for the daily schedule. In close consultation we ensure the right balance between Biblical themes, playing with friends, stimulating development and quiet moments. Your toddler should feel just as nice and loved at Elorah as at home!
We are happy to listen to your wishes and offer suitable childcare. It is our goal to make agreements that you feel comfortable with and that suit your personal situation. Your child enjoys with us while you work carefree or take time for yourself.
From day care to primary school
When your toddler turns four and starts primary school, quite a lot changes. With the care of Elorah, the step to school is a lot less big. Almost all branches with day care work with Toddler start, certified programs that stimulate your child's development in preparation for primary school.
Elorah employs qualified employees who have followed child-related training. They give your toddler all the care and love. In collaboration with the Kibeo Academy, the knowledge of our employees is up-to-date. From safety to nutrition, pedagogy and care: the employees who care for your child are always aware of the latest developments.
Read more about our toddler groups